Assistant / Team Assistant Copyright (m/f/d)
Assistant / Team Assistant Copyright (m/f/d)
(Part-time – 30 hrs/week – with immediate effect)
—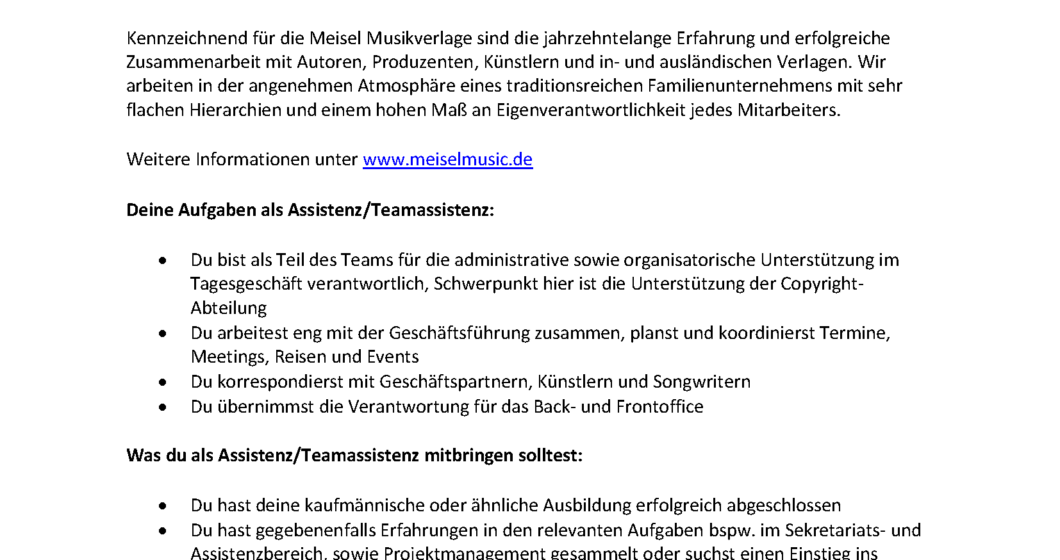 Who we are:
At Meisel Music, we are an independent, family-run music company. We have broad expertise in publishing, production, recorded music and sheet music.
With almost 100 years of existence, Meisel Music is not only one of the oldest, but still one of the leading independent music publishers in Germany. Founded in 1926 by operetta and film music composer Will Meisel, our origins lie in light music.
Meisel Musikverlage is characterised by decades of experience and successful cooperation with authors, producers, artists and domestic and foreign publishers. We work in the pleasant atmosphere of a traditional family business with very flat hierarchies and a high degree of personal responsibility for each employee.
For further information, please visit www.meiselmusic.de
Your tasks as an assistant/team assistant:
– As part of the team, you will be responsible for administrative and organisational support in day-to-day business, with a focus on supporting the copyright department.
– You will work closely with the management, planning and coordinating appointments, meetings, travel and events.
– You will correspond with business partners, artists and songwriters.
– You will be responsible for the back and front office.
What you should bring with you as an assistant/team assistant:
– You have successfully completed your commercial or similar training
– You may have gained experience in the relevant tasks, e.g. in secretarial and assistance work, as well as project management, or you are looking for a career start
– You have MS-Office skills
– You are open and communicative and speak and write English
– You work independently and are organised, punctual, reliable and conscientious. You are a team player
Are you interested in working in a great team in Berlin? Then please apply by e-mail and send a PDF including cover letter, CV, salary expectations and references to: ina.wiens@meiselmusic.de.
We look forward to receiving your application!