"My world is music" – Federal Cross of Merit for Prof. Christian Bruhn
March 8th, Christian Bruhn was awarded the Federal Cross of Merit on Ribbon for his life's work, which includes over 2000 compositions.
—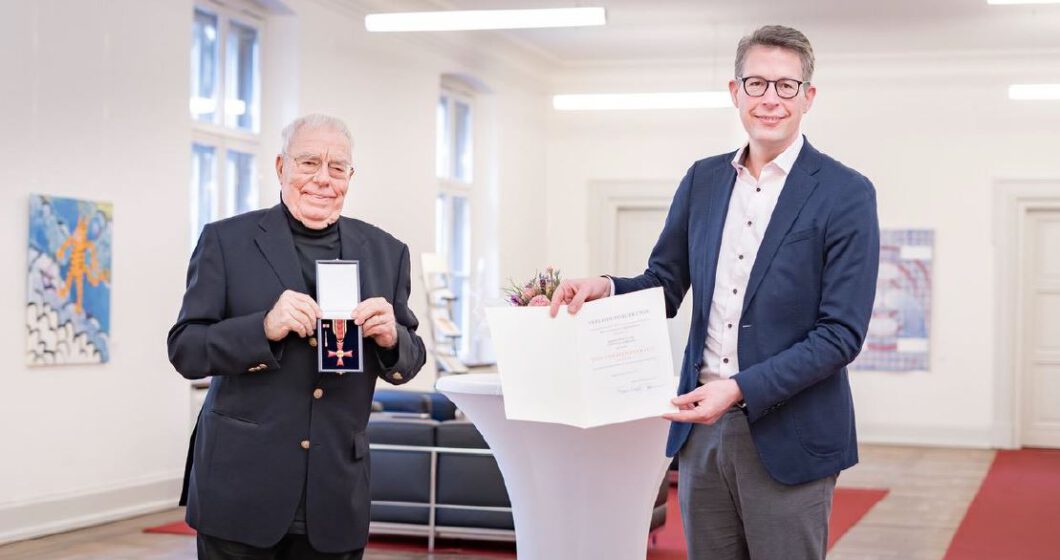 In his laudatory speech, Markus Blume (Bavaria's Minister of Science and the Arts) emphasised in particular the unifying aspect of Bruhn's work: for six decades, his melodies have found their way into German living rooms and are known to young and old, whether from television (the theme tune to "Heidi") or the radio ("Marmor, Stein und Eisen bricht").
Born in Wentorf near Hamburg in 1934, he spent the war years in Carinthia, Austria. Folk music left a strong influence on Hans Christian and moved his mother to teach him to play the piano at a young age, thus laying the foundation for his musical career. Studies in composition, piano and clarinet as well as his activities in the studio of a record factory, as an arranger or producer furthermore prepared the way for a versatile career for music.
Bruhn met Peter Meisel at the Luxembourg Schlager Festival in 1959, whereupon the two of them founded Hansa-Musikproduktion and advanced to become the most successful German "independent producer team" in the following years. The meeting sealed a collaboration that lasted for decades. Wins at the legendary German Schlager Festival (1962 with "Zwei kleine Italiener" and 1964 with "Liebeskummer lohnt sich nicht") testify to success from the very beginning. In this context, Bruhn's long-standing collaborations with his lyricists Günter Loose and Georg Buschor as well as with Mireille Mathieu should also be highlighted.
Christian Bruhn always demonstrated his ability to change in his work. Where "Marmor, Stein und Eisen bricht" (1965) strikes rockier notes, he brought his wealth of experience as a pianist into jazz combos for "Wunder gibt es immer wieder" (1970). The third place at the Grand Prix Eurovision de la Chanson for Katja Ebstein shows once again how Bruhn's melodies influenced the sound of the time.